Signage Design & Installation in Hertfordshire
Whether it is an outdoor signage or an indoor signage, choosing the perfect sign for your business is like choosing a pair of sneakers, there are million types of signage options available although you only choose the one that fits you the best, a lot of research goes into selecting a perfect signage, and hence it becomes very important to invest time and efforts to choose the signage that derives maximum results. Here we, the best signage service in Hertfordshire, are going to make your task easy for you, by providing you with a comprehensive guide to different types of signage and their uses.
Signs are everywhere and we all come across them every day, without us even realising it. The signs around us influence our decisions, whether we're aware of it or not, and each type of sign serves a specific purpose or has its own set of rules that need to be followed to the letter. In this guide, you'll learn about the different types of signage used in your daily life and their uses so that next time you're faced with an option, you can make an informed decision instead of being swayed by non-conventional factors such as aesthetics or colours. So before starting out let us discuss some types of signs that we usually see around us:
Outdoor Signage
Outdoor signs are among the most important tools in an advertiser's arsenal. Each one aims to increase exposure. You may find them outside your home or office. As an alternative, they can be erected at strategic locations around the local area.
Indoor Signage
Indoor signs serve a variety of purposes. They work best when you are physically present. It is the goal of many of them to inform prospective customers about various topics. In other cases, they're used to promote a particular aspect of a business or service.
Persuasive Signs
Business, service or product promotion is one of the most exciting uses for signage. Many products are designed with this purpose in mind. Customer engagement is a specialty of theirs.
Informational Signs
Remember that not all signage is intended to be used as advertising. You'll also need a way to communicate information. Things like wayfinders, directional signage, menu boards and more fall into this category. Many times they will be in your office or in close proximity to it.
Now that we have understood all the different types of signage, let's get to know a bit about where we can use these signage and what type of signage fit the best for your needs.
Let us begin talking about uses of signage by peeking into window graphics. Often mistaken for simple decorations, window graphics are a powerful form of advertisement. They're also extremely versatile, with many different types and purposes. However, they have one main purpose: to attract attention from passersby. Some of them act as a beacon or invitation to enter an establishment, while others simply showcase products and services. Regardless of their purpose, there are five common types of window graphics that will help you get started on your next project: static cling, indoor/outdoor film graphics, adhesive vinyl graphics, digitally printed decals (static clings) and clear pouches (film). Each one comes with its own set of advantages and disadvantages in terms of both cost and effectiveness.
What's more? There are a plethora of customization options to choose from. Ranging from graphics that cover the entire space to smaller images or even a few lines of text. This versatile type of signage serves one more purpose - it becomes a part of your decor, enhancing it. This is one of the reasons why signage is such a popular way of advertising. It's very common for companies to combine signage with a well-designed window graphic to get more attention and interest.
Murals and Wraps
Placed on the walls of storefronts, these signs are ideal for businesses looking to appeal to a wider range of people. These signs are designed to attract attention, and they're placed in high-traffic areas where there is plenty of opportunity for foot traffic. They are not intended to last as long as other forms of signage, but you may be able to get more mileage out of your investment than with other types of signs.
Designing a mural or wrap requires research into demographics so that your art or sign draws attention from potential customers who would likely patronize your business instead of ignoring it. Manufacturers mostly print these wraps on vinyl. This material makes the surface look shiny and vibrant.
Make your automobile speak the language of your business without going through a heavy on the pocket paintjob, just apply graphical vinyls to your car and you will be good to go. On the other hand murals are a form of art which should be created only with a professional's help, a wrong or shabby mural on the wall won't only bring your storefront down but will also leave a long lasting bad impression on your customer's mind.
A-Frame Sidewalk Signs
Commonly used by small businesses to advertise sales or events, a-frame signs are usually portable and can be placed outside of stores, on sidewalks, and pretty much anywhere where they'll get maximum visibility. They often display ads using stick-on letters that are easily changed when needed. Aside from being affordable, a-frame signs also work for promoting a business because they don't take up much space indoors and can be easily stored away when not in use. They are one of many types of signage commonly used by smaller businesses.
It is a cost effective solution for businesses to advertise their products and services in an economical way, apart from being economical they have negligible weight and are so easy to move around. To make your A-frame Sidewalk Signs stand out you should always ensure that it catches the passerby's attention, for that to happen we need to use big bold text and bright colours. Here are few tips on how can you make you A-Frame Sidewalk Sign stand out-
Use the signs in the vicinity of your store and draw arrow marks pointing towards the direction of your store
For restaurant owners, print your menu on A Frame signs. Customers always love it when they get to know what your restaurant has to offer without even entering the restaurant
Be specific about the details of your store, provide your contact information, hours of operation and other important information viewer will need to reach till your store
Mention your specials and promotions and highlight and attractive offers.
It's a world you probably don't think about much, but signs on vehicles (and in vehicle-related industries) come in many different forms. One thing they all have in common: They're meant to draw attention and make sure you see them. Vehicle graphics are used for everything from mobile advertisements to permanent logos on semi trucks, and there are plenty of options for both indoor and outdoor applications.
These signs offer a wider reach as these signs can move around and reach different localities. They are a great way for a business to convert their assets into a source of marketing. Without getting a paint job you can transform your vehicle into either a subtle source of your promotion or a moving billboard.
Here Are A Few Tips To Choose A Good Vehicle Graphic Design-
Always hire a professional to design your graphics, designing involves a lot of research and detailing and is best done with the help of a professional

Use laminated wrapping materials to boost the lifetime of the graphic, they might be a little higher in cost than the normal material but they offer more value to money

Use a bigger font size to get a better readability even when the vehicle is moving.
Floor Graphic Signs
Floor graphics are commonly used for ads in stores and other retail outlets, but they can also be used for fun. Do you have a trade show coming up? Why not make use of that empty space on your exhibition booth floor by printing a custom design? Even if you don't attend many trade shows, floor graphics are useful for unique promotions in your local area. A designer can get really creative with floor graphics and print intricate designs or logos that really stand out. They're often more effective than wall signs because they aren't always visible from every angle and people sometimes have to stop and look down to read them!
Floor graphics can be a great way to approach directional signs, just make a pathway of graphics or use arrows to point out directions. Floor graphics get the job done of indoor navigation easily. Every surface has a potential to be a source of advertisement for your business and that is what contemporary advertising understands. Be as creative as you can as graphics on the floor if made dull or of poor creativity can often go unnoticed. Use of laminated material is recommended here as well.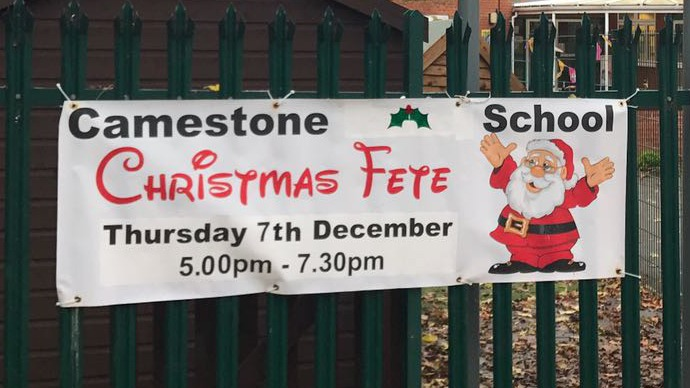 Banner Signs
If you want your message to reach a large number of people and are not concerned about long-term visibility, banner signs can work very well. They're durable, portable and relatively inexpensive. Signs like these are commonly used by businesses to promote daily specials. However, they are visible for limited periods of time typically one to two hours during business hours. Outdoor signage tend to be placed at eye level for easy reading; however, you should avoid placing them in direct sunlight or they'll become difficult to read. Also bear in mind that most retailers do not allow businesses that directly compete with them from using similar signage on their property – so as much as it makes sense for your business, don't duplicate other banners in your area!
Outdoor signage banners can hang high and use minimal space to be an effective tool of advertisement for small and large businesses, the numerous options and opportunities to be creative with fonts, shapes, sizes and colours make this kind of advertising a approachable source of direct marketing to businesses.
Safety Signs And Decals
Safety always becomes a concern dealing with a business, may it be a fire hazard in a restaurant or an active worksite, it is always important to take care of all the safety precautions, using safety signs will not only direct your workers or employees to the safety equipment or the safety exit efficiently in the moment of chaos but will also ensure that all the protocols can be followed easily
Here are some ways in which you can use Safety Indoor signs and decals to optimise the safety factor or your business-
General Danger Signs

Electrical Safety Signs

Biohazard Signs

Chemical Hazard Signs

High Voltage Warning Signs

Fire Escape Signs

Fire Extinguisher Signs
LED Sign Boards
LED signs are outdoor signs or indoor signs which are displayed on a LED screen. These signs are a great option for your business if you have to change your graphics daily. It is a one time investment but has always proven to give a higher return on investment.
LED signs are flashy and attract a mass of audience easily. Use of animation and flashy colours can make your LED Boards stand out from your competition. You can mount the LED board indoor or outdoor depending on the visibility
So these are some ways in which you can use the signage solutions effectively for your business, I hope this read was able to deliver you all that you needed. Herts Signs is the best Signage Service provider in Hertfordshire. With an industry leading team of designers we help you design your signage, manufacture the sign and install it at your place of business. Signage solutions from herts signs is the key for your business to unlock its maximum potential and deliver the results of your dreams. Contact us now and get a sign from herts sign!